Team Golden Dragon, Martial Arts School In Goa
SAVANDO system includes all possible forms of strikes: attacks to the groin, finger jab to the eye.Since Master rajveer himself was born in the Snake year of the chinese astrology, the SAVANDO System too is based on the principle of a Snake, "COILED, INTELLIGENT & QUICK IN STRIKING". It comprises of offensive and counter Offensive measures With/Against Bladed Weapon Attacks whose roots are from Kali-Silat systems of Philippines and Malaysia. The SAVANDO System is deviced to adept any kind of Self Defense Situations as well as group attackers. Its simplicity is seen in its flexible Ongauard positions. Although the On-Guard position is a formidable overall stance, In SAVANDO system, it is by no means the only one. Master rajveer acknowledged that there were times when other positions should be used.The SAVANDO system is derived from a combination of techniques sourced from Wing Chun KungFu, Kali, Silat, Kick Boxing, JKD, Karate & Boxing, along with realistic fight training. The System structure Of SAVANDO, allows one to have a good Empty Hand as well as good bladed Tactics which most Traditional Systems Lack. It is because of its unique and to the point curriculum that SAVANDO is so popular and called the TACTICAL FIGHTING SYSTEM (TFS) Or R.A.T. (Range Adaptive Tactics)
Team Golden Dragon, Martial Arts School In Goa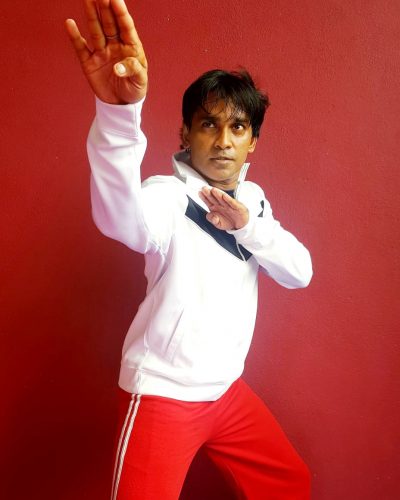 Team Golden Dragon, Martial Arts School In Goa
Range Adaptive tactics system is a Situation & Range adaptive New Generation, simple yet revolutionary System Formulated and structured by Guru Rajveer Savan.The system includes all possible forms of strikes: attacks to the groin, finger jab to the eye. 
A hybrid Combat system known for its Armed & Unarmed combat. 75% of Vajra Kali is a weapon based. From Blunt to Edged weapons Vajra Kali trainerd are known for its lethal weapon Fighting skills.
BOMO are Body movements designed to improve your overall flexibility and range of motion through mobility. BOMO Movements need you to support your body on all four limbs very close to the ground. Our BOMO workouts helps to boost your overall conditioning, keeps things engaging and allows you to move at your own pace and rest as required too.
Stop Hit is an expression of Master Rajveer and explains strategies of attacks & Defense on the street, increase training awareness, and develop body movements controlling the pace, locating your angles, timing an attack or counter, and setting up your opponent.
Your martial arts will lack impact, meaning and focus if you do not include Snake fangs pressure points in your training. This art is not just about "which pressure point to hit"; it is about how you move to apply the points, in being effective by correctly striking or seizing points in the correct way
Is one of its kind holistic moving meditation based on Hindu holistic symbols. Beginners first learn physical movements coordinated with breathing techniques. Students practice sets of exercises until each movement or Holistic symbol is perfected.